The Raider's Camp is the place in Forest Survivors where the raiders reside.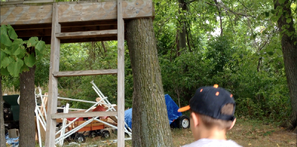 Description
Edit
The camp is where the raiders' reside during their hunt for the Knife of Ages. It consists of a picnic table, woodpile, heap of supplies (presumed to be from Joshua Wilder's plane crash), fire pit, and a tree fort used as a place to take prisoners.
The camp is set in a small clearing with forest to the north, west, and south, and the cornfield to the east.
The camp was where Joshua Wilder originally landed after his plane crashed. Theoretically, this would mean that the plane wreckage would be visible from the camp.
However, the wreckage is apparently somewhere west of the camp, which means that Wilder would have had to have fallen out of the plane whilst it was still in air.