Petersburg Cabin is the woodland home of billionaire Broad Petersburg.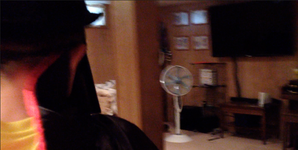 During Forest Survivors, Broad Petersburg brings Dorian Moe to his cabin in attempts to hide him from Viktor Klov. During the night, Klov kidnaps Moe and a little later, kills Petersburg.
Later, it serves as Croc Glynn's final resting place when she is brought there by Joshua Wilder, Chase Cinder, Zeia Ender, and Dorian after being stabbed by Viktor.
Its final appearance is after the tornado, after which it has been badly battered. When the house collapses, it causes the appliances to back up, blowing up the entire cabin and everything inside it.
Petersburg Cabin is actually the basement of the home of the director of Forest Survivors.