"I'm Finn, your guard."
Finn Sage is a raider in Forest Survivors, the most powerless of anyone on the team.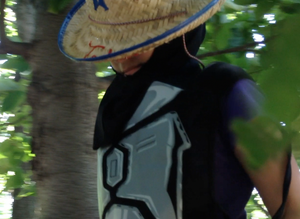 The first and only time Finn is seen in the movie is after Chase Cinder and Croc Glynn command her to guard their prisoner, Joshua Wilder, while they depart on a raid.
After a subtle while of silence, Wilder quickly kicks Finn in the gut, knocking her out. Joshua easily unlatches his chains and steals Finn's outfit to pass off as a raider, which ends up as a mistake, later. A few days later, Joshua wakes up and comments on the fact that Finn's body is gone. Finn is not seen for the rest of the movie. It is unknown what happened to her.
Finn is one of two female characters in the movie. The other is Zeia Ender.
Zeia and Finn are also both portrayed by the same actor, ironically.