"I almost thought you'd forgotten about us!"
Chase Cinder is a raider-turned hero in Forest Survivors. He is also a clone of Ónegus Gan Aihm.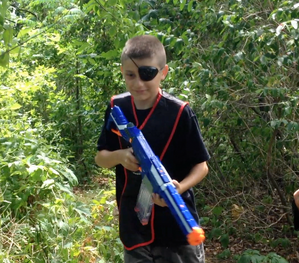 Chase Cinder and his partner, Croc Glynn, are returning from a raid on their hunt for the Knife of Ages when they learn that Joshua Wilder was at their camp. After questioning and a brief shootout, Chase takes Wilder prisoner and heads off on another raid. When they return, they learn Joshua Wilder escaped.
The plot escalates as Joshua Wilder becomes an opponent on the quest for the Knife of Ages, leading to Croc's and his eventual departure from the raiders.
Description
Edit
According to his actor, Chase is described as "aggressive, and a bit crazy." Indeed, Chase often resorts to his gun as one of his first attacks in battle.
Luckily, Chase is also very determined and intelligent.
Chase just wears the eyepatch to look more menacing. He loses it in the tornado and reveals it to be just for show.