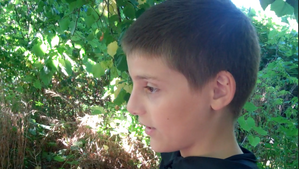 Ónegus Gan Aihm
is a character in Forest Survivors, the landlord of the forest who planted the cornfield and scientist who made genetically enhanced copies of himself, the most prominent being
Chase Cinder
.
Before the events of Forest Survivors, Gan Aihm cloned himself, creating Chase Cinder. He loaded Cinder with artificial memories.
It is unknown how Chase Ciner found himself next to Viktor Klov, but, in the middle of the movie, Ónegus warns Cinder that Viktor is using him. Cinder refuses to believe it, but questions his own decisions when, just a little later, Croc Glynn leaves the raiders. Chase decides to go too.
After Croc and Chase befriend Joshua Wilder and the tornado passes, Ónegus visits them and tells them that Viktor left the area because of the tornado but did not take the Knife of Ages with him. He also prompts Daniel Moe to tell everyone a devastating family secret.
Aihm is able to succesfully rope everyone into a group search for the Knife, and it is sucessfully found. Aihm brings it back to the Secret Services, where he arranges for it to be disposed.
"Ónegus Gan Aihm" can be translated into Celtic, with a few letters removed, as "The Anonymous One."